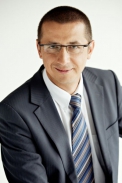 Natland: Karel Týc new head of real estate projects
Natland Group has announced appointment of Karel Týc (43) to the position of Real Estate Director. He will be responsible for project management and real estate development throughout the group.
Prior to joining Natland Group, Karel Týc was a partner and board member at M&K Development, where he was responsible for property development projects. Among other things, he worked as a production manager at Prosim and as head of property development at Storea. He was also project coordinator and project manager of office buildings and shopping centres at Skanska Property CZ.
Karel Týc graduated from Czech Technical University in Prague and University of Economics. He is a building chartered engineer at ČKAIT and member of the Association of Civil Engineers (SSI). Karel enjoys windsurfing, skiing, golf and reading.
Sociálne siete
Voľby článku