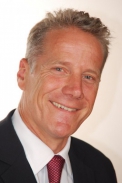 CBRE appoints new Head of Capital Markets for CEE
CBRE announced the appointment of Michael Atwell as Head of Capital Markets for Central and Eastern Europe (CEE), further strengthening CBRE's market-leading CEE business and enhancing the integrated local and cross-border services it offers to clients across the region.
In his new role, Michael will continue the recent successes of the CBRE Capital Markets team across CEE. Michael succeeds Patrick O'Gorman who will return to CBRE's London office to take up the role in the Central London Investment team following four years in the CEE role.
Social networks
Article options