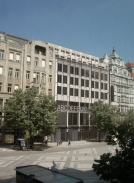 Green architecture has arrived at Prague´s centre
The trend of building "green" offices, which has clearly been gaining momentum in recent years, has finally arrived at Prague´s historical centre. In the vacant site between the Koruna Palace and Ambassador Hotel on Wenceslas Square, an exclusive commercial office complex Diamant is arising. The first environmentally sustainable building in the city centre will offer its tenants a LEED Gold certificate. Its 10,765 sqm of total floor area consists of 3,510 sqm of modern office space and 5,771 sqm of retail space. The remaining 1,484 sqm on the top retreating floors is reserved to exclusive residential units. "However, I have to disappoint any person interested in individual flats – we are negotiating with parties interested to rent the entire housing package, which is the option preferred by the investor," highlights Carlo Gradl of MAX Immo responsible for renting the project. Final occupation approval of the project is scheduled for 1 September this year.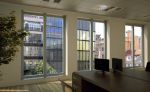 The investor of the project is Mustela, a company owned by Austrian property developer Wolfgang Müller. In addition to the Diamant project, he owns a lucrative group of buildings in Na Příkopě street nos. 23, 25 and 27, for example.
The architectural design was created by Václav Hlaváček´s Studio Acht which is signed, among others, under the nearby Van Graaf building. Unlike many other buildings in the historic city centre, Diamant has never raised any controversy.
Sociálne siete
Voľby článku